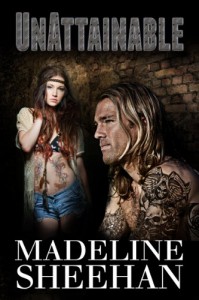 Unattainable by Madeline Sheehan
My rating: 3 of 5 stars



First of all I would like to tell you that I'm obsessed with this series...but unfortunately this book didn't captivate me... :(( The story had a great premise..I really tried to like it but I'm not impressed! I hope the next book to be better!!!
My biggest complain is that I want more of Cage and Tegen...and that
the book also includes the side story of Ellie and Dirty and it ruined the book for me ...





Tegen loved Cage since she was 8 and as much as she tried to hate him after 16 she couldn't. ..She made the mistake of telling him she loved him after he took her virginity...




Years later they finally see each other again..and he apologised to her..
There relationship was always complicated and messy not romabtic ...

I didn't like Tegen in the previous book....and this didn't change in this book.. -.-
I hoped she would already get over Cage but this didn't happen ! I can imagine that it is hard to have your heart broken at such a young age but she hold this on to a grudge!


About Dirty and Ellie..

Ellie is a friend of Danny and she goes to live with Dirty after he saves her from Daniel's almost rape...Dirty then proceeds to pull a gun on her in his sleep and he almost rapes her.She runs away but after seeing him in pain, immediately comes back to comfort him. -.-




I find their story doesn't interest me..and I skip some of their parts....

I hope the next book will be better!!!
And I can't wait for ZZ's book!I want a girl for him!!!

View all my reviews